new project:  "100+ years at the intersection of capitol way & 4th Avenue", Olympia, Washington.
   In this display of historic photographs, I merely want to show photographs taken of this location through the years and let the questions and conversations flow. What has and hasn't changed at this primary intersection of Capitol City? On three of the four corners are buildings on the National Register of Historic Places. The display is in one of the large windows in the Goldberg building on the Southwest corner of 4th Avenue and Capitol Way, Olympia, Washington from March 15th thru June 2022. Thanks to funding from Olympia Artspace Alliance and assistance from Lucy Gentry!
This display includes the following photographs.  All photos are titled and dated ~ click on each one to view larger.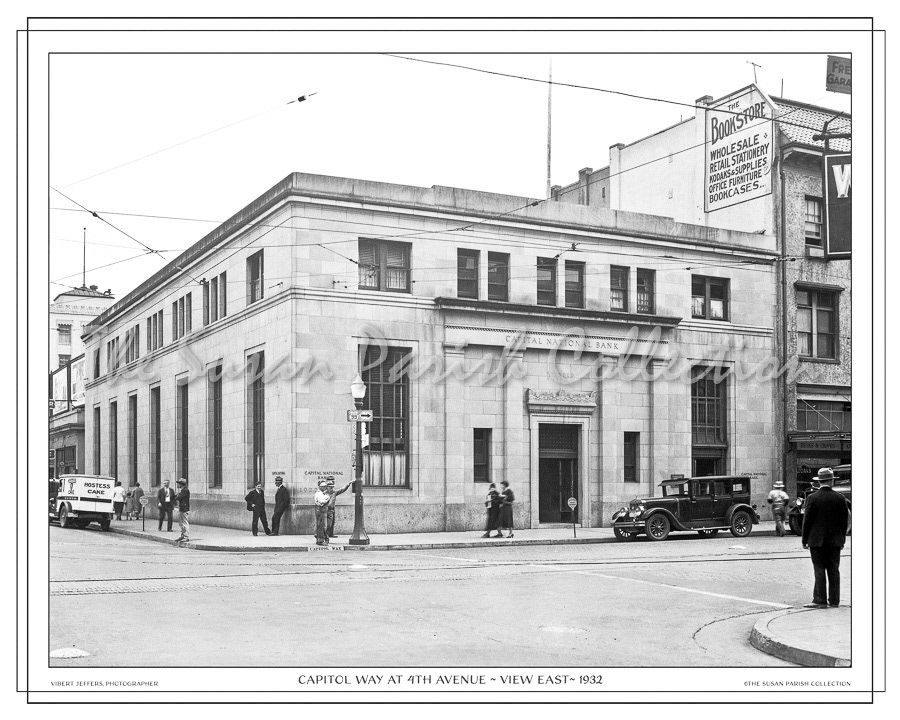 new project: "CAPITOL THEATER THROUGH THE YEARS", OLYMPIA, WASHINGTON
   This is a permanent display of historic photographs (primarily by Vibert Jeffers, Jeffers Studio) located in the Olympia Film Society's office on 5th Avenue East downtown next-door to the theater. Thanks to funding from the Olympia Film Society. Installation in March 2022. The photographs below are part of this display which is open for viewing when the OFS office is open. All art is printed on metal. More info coming online soon!
Note from Parish: 
This new website is still under construction & always will be - as my journey as a Shadow Catcher is never-ending and the photographs and stories behind them are endless.  The main 
purpose of this website is primarily for learning ~ about my collection and the visual history of the region. Many of the photographs on this site are those not ready for production and distribution. The RAW scans or Quick Pics meant to be shared to educate and to entertain. Those ready for purchase I will post to my Shadow Catchers website which will soon have eCommerce ability or Contact Me by Email   if you see something here you are interested in licensing or purchasing.   
I hope you enjoy viewing these Windows in Time...and learning about our history through photography.